Learn how to make almond butter with this super simple homemade almond butter recipe that only requires almonds, vanilla bean paste, maple syrup, salt, and a little coconut oil.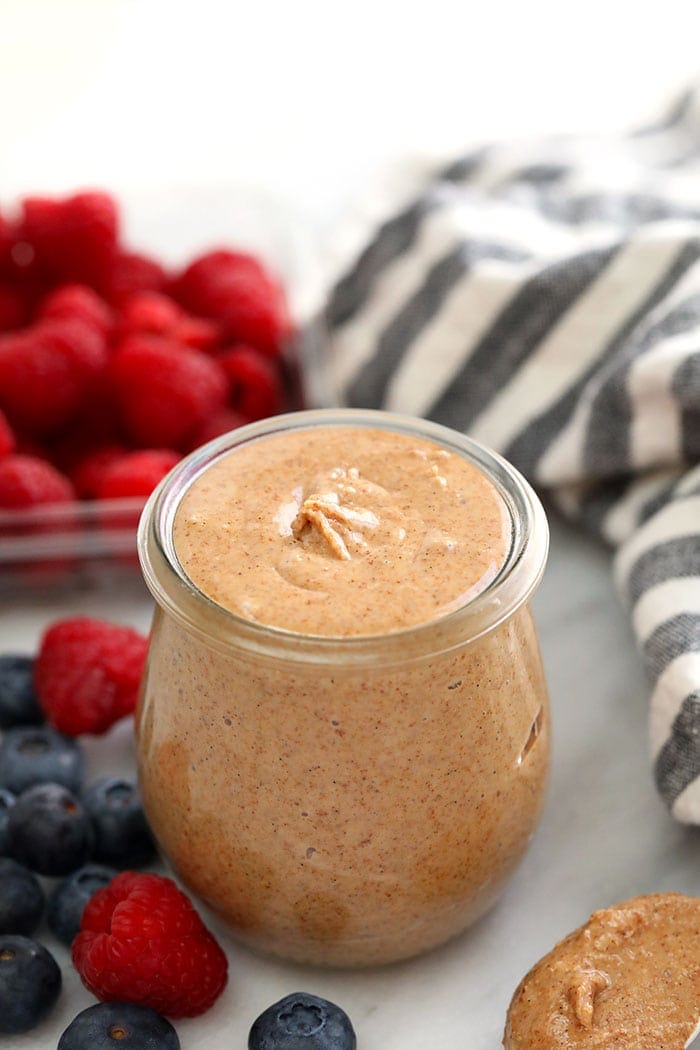 What is almond butter?
Almond butter is a nut butter that's derived from whole almonds. Almonds are placed into a high-speed food processor or blender and processed until creamy and smooth. The flavor is mild and slightly sweet. Almond butter can be used in both sweet and savory dishes.
Almond butter is commonly eaten as a snack in simple forms on fruit such as banana or apples, but also used in smoothies, chia seed pudding, on toast, etc.
Almond butter has become more popular in the more recent years as peanut allergies are on the rise and almond butter is peanut-free.
Almond Butter Nutrition
Almond butter is high in unsaturated fats and is an excellent high-protein, low-carb food. Per 1 tablespoon serving:
98 calories
9g fat
3g carb
1g sugar
3g protein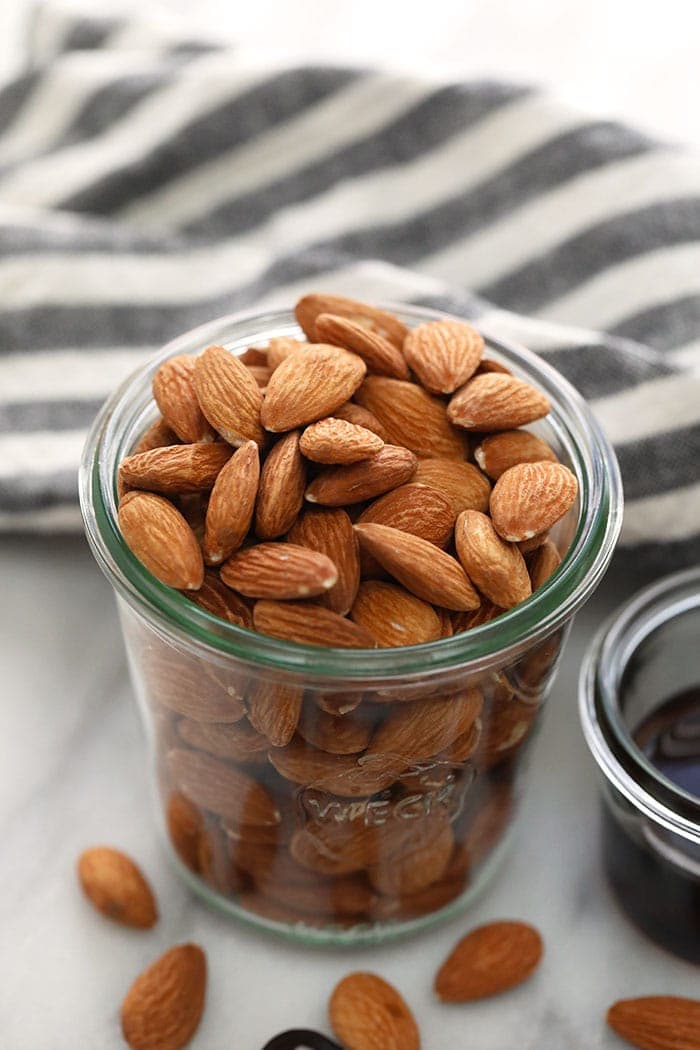 Almond Butter Vs. Peanut Butter
Almond butter and peanut butter are very similar in that they are pulverized nuts into a nut butter. Almond butter uses almonds, where peanut butter uses peanuts.
Is almond butter peanut free? Almond butter is peanut-free IF it is manufactured in a plant without peanuts. Make sure to read the label before purchasing.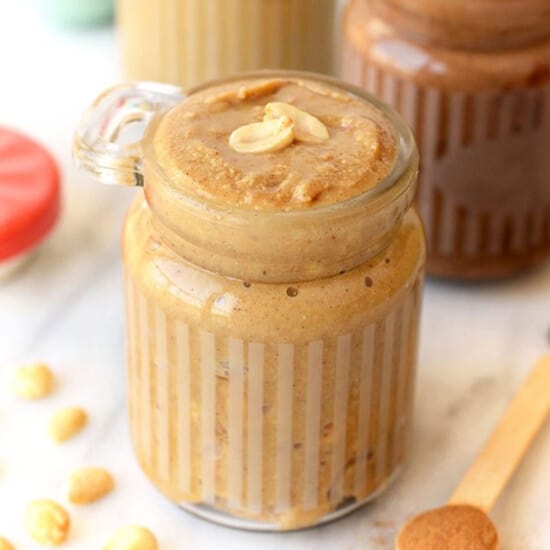 How to Make
Peanut Butter
Have you ever wondered how easy it is to make your own homemade peanut butter? This healthy peanut butter recipe is quick, simple and skips all those fillers found in many store-bought peanut butters.
Get Recipe
How to Make Almond Butter
Roast Almonds
Roasting your almonds is crucial for this recipe as it brings out the natural oils in your almonds. Feel free to use pre-roasted almonds instead.
Preheat your oven, and line a baking sheet with tin foil. Place your almonds on the baking sheet and top with maple syrup and a sprinkle of sea salt. Toss almonds with your hands, making sure that they are evenly coated and spread out on the baking sheet.
Roast almonds for 8-10 minutes, and let cool for 5-10 minutes.
Process
Once the almonds have cooled completely, transfer them into a small food processor. Process on high for about 5 minutes, scraping the sides as needed. After 5 minutes, if your almonds have not started to become a nut butter consistency, add in a teaspoon of coconut oil at a time until your almonds become drippy nut butter. We used 3 teaspoons.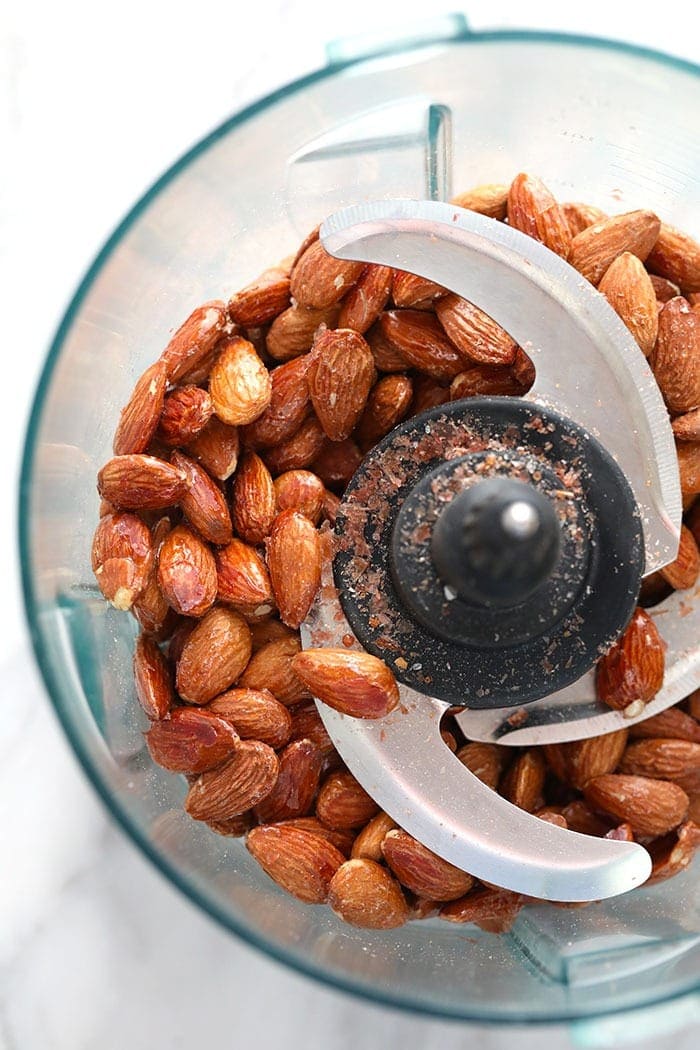 Add Flavors
Once your almond butter is at the desired consistency / drippiness, add in the paste from 1/2 a vanilla bean, and give it one last whirl in your food processor to mix it all together.
Other flavors to add to your almond butter to give it flavor include:
Enjoy
And then store what you have left in an airtight container or jar. It's best if kept in the refrigerator or a dark place.
And now that you have extra almond butter on hand, check out some of our recipes on Fit Foodie Finds that use almond butter. Yah welcome.
Q&A
Is almond butter healthier than peanut butter?
Both almond and peanut butter are healthy nut butter options and have similar nutrition profiles.
What do you eat almond butter with?
Almond butter can be used in place of peanut butter, so you can eat it with fruit, sandwiches, in smoothies, etc.
Should you refrigerate almond butter?
There is no need to refrigerate almond butter, unless it recommends you do this on the container.
Is it cheaper to make your own almond butter?
Often times it is not cheaper to make your own almond butter because it's mass-produced. But, if you get a good deal on almonds then it for sure is!
Why is my almond butter not getting creamy?
If your almond butter is having a hard time getting creamy you make either need to keep processing it or add in some extra fat like coconut oil to help make it more drippy.
What oil do you use to make nut butter?
The most common oil used to help make nut butter smooth or drippy is coconut oil. Palm oil is also frequently used.
Ways to Use Homemade Almond Butter
Smoothies: feel free to top or add almond butter to your favorite smoothie. Try it on one of our smoothie bowls or swap it for the peanut butter in our peanut butter banana smoothie.
Almond Butter Cups: bye bye peanut butter cups. Try our almond butter cups!
Almond Butter Cookies: take peanut butter cookies to a new level and try our chocolate chunk almond butter cookies!
Toast: there is truly nothing better than almond butter on toast plus your favorite fruit on top.
Banana Bread: try our almond butter banana bread muffins for a twist on banana bread!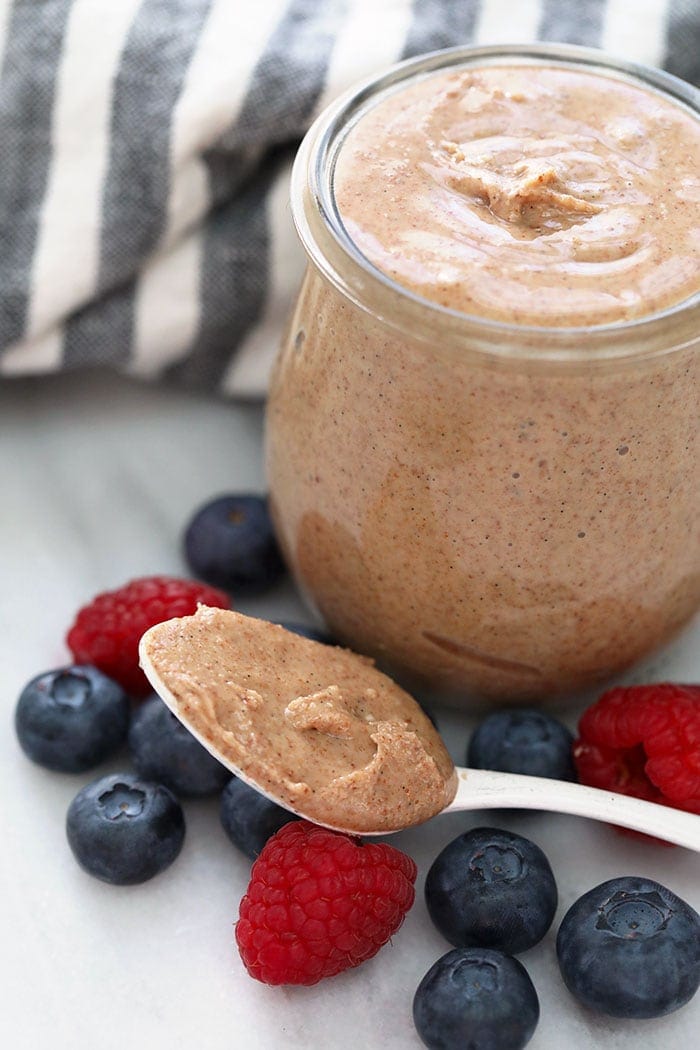 Storage
The shelf life of homemade almond butter is a bit less than store-bought because there are no preservatives. Stores in an airtight container for up to 3 months in a cool, dark place.