This smoked pork shoulder is smoked is a 7-lb. pork shoulder that is smoked for 7-8 hours after it is rubbed in a delicious dry rub. During the cook time this delicious pork shoulder is spritzed it with a simple apple cider spritz.
You can use this smoked pork shoulder on a sandwich, in burritos, over nachos, or on it's own. You can't beat it.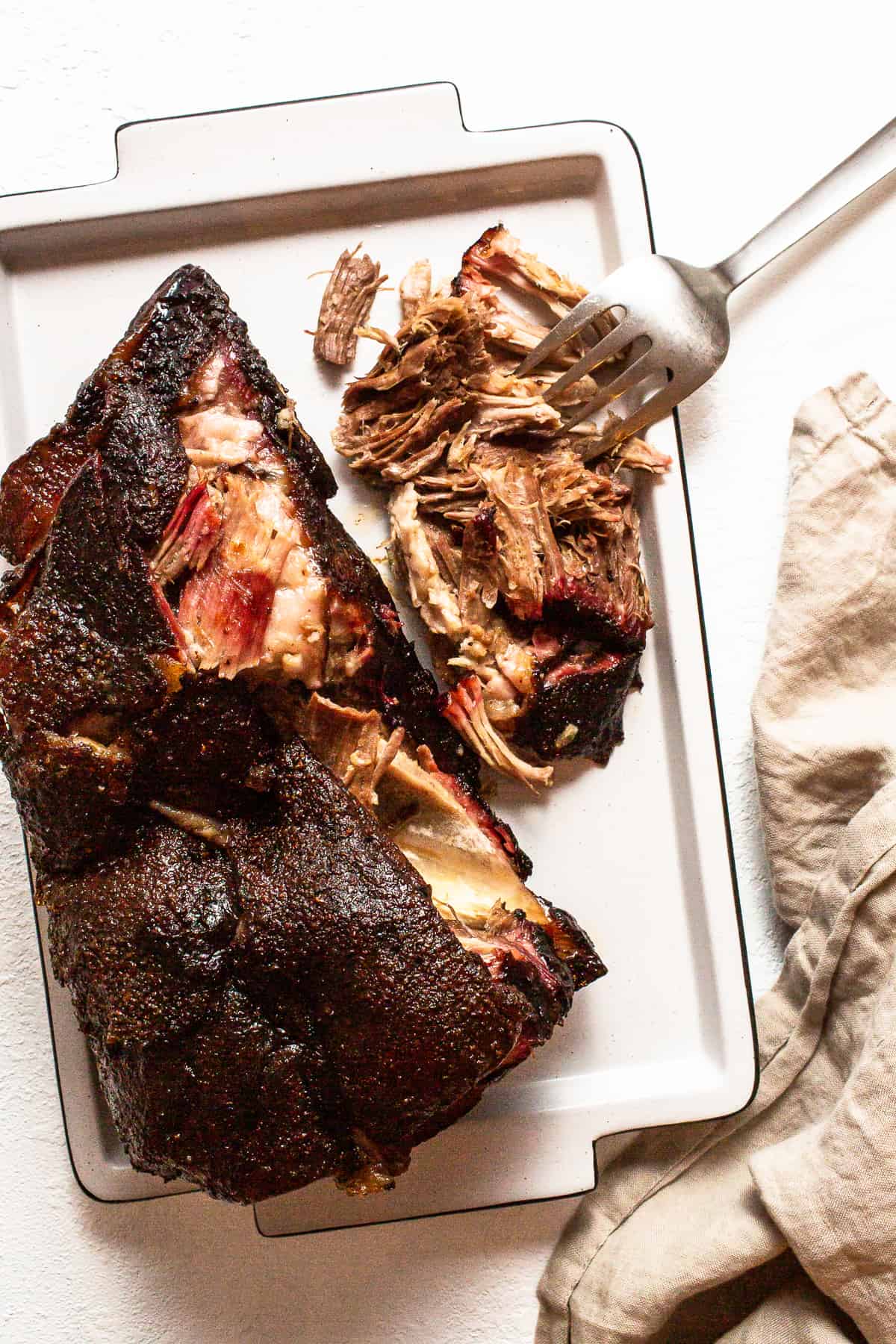 The Best Smoked Pork Shoulder
This delicious pork shoulder has a delicious smoke flavor and an unreal tenderness after you let it rest and shred it. We love this recipe because it is a low and slow recipe that leaves you with shredded pork that you can use so many different ways.
Cooking tips before starting
There are a few things you want to think about before starting the process of making a smoked pork shoulder.
Call ahead to your local grocery store meat counter or butcher to see if they have a 7-lb. bone-in pork shoulder. They can be hard to come by on the spot.
Make sure you have enough pellets or wood chips for the smoker. We use a Traeger smoker for smoking recipes and usually use their signature blend for pellets. If you are using wood chips, the best wood for smoking pork is usually hickory, but cherry or oak will give it a unique taste.
Give your smoker or grill time to heat up.
Since you have your smoker on, consider throwing
Featured Ingredients
Pork shoulder: this recipe uses a bone-in 7-lb. pork shoulder. We recommend using a bone-in shoulder for smoking because it offers a bit more flavor and fat.
Dry rub: the spices for this smoked pork shoulder are a mix of sweet, savory, and salty. Make sure that you don't skimp on the salt. The salt tenderizes the meat and enhances all of the delicious flavors of the pork and other dry rub ingredients.
Pellets or wood chips: Although pellets and wood chips are not an ingredients, we feature them because the last thing you want to do is run out of extra pellets or wood chips part way through the smoking time.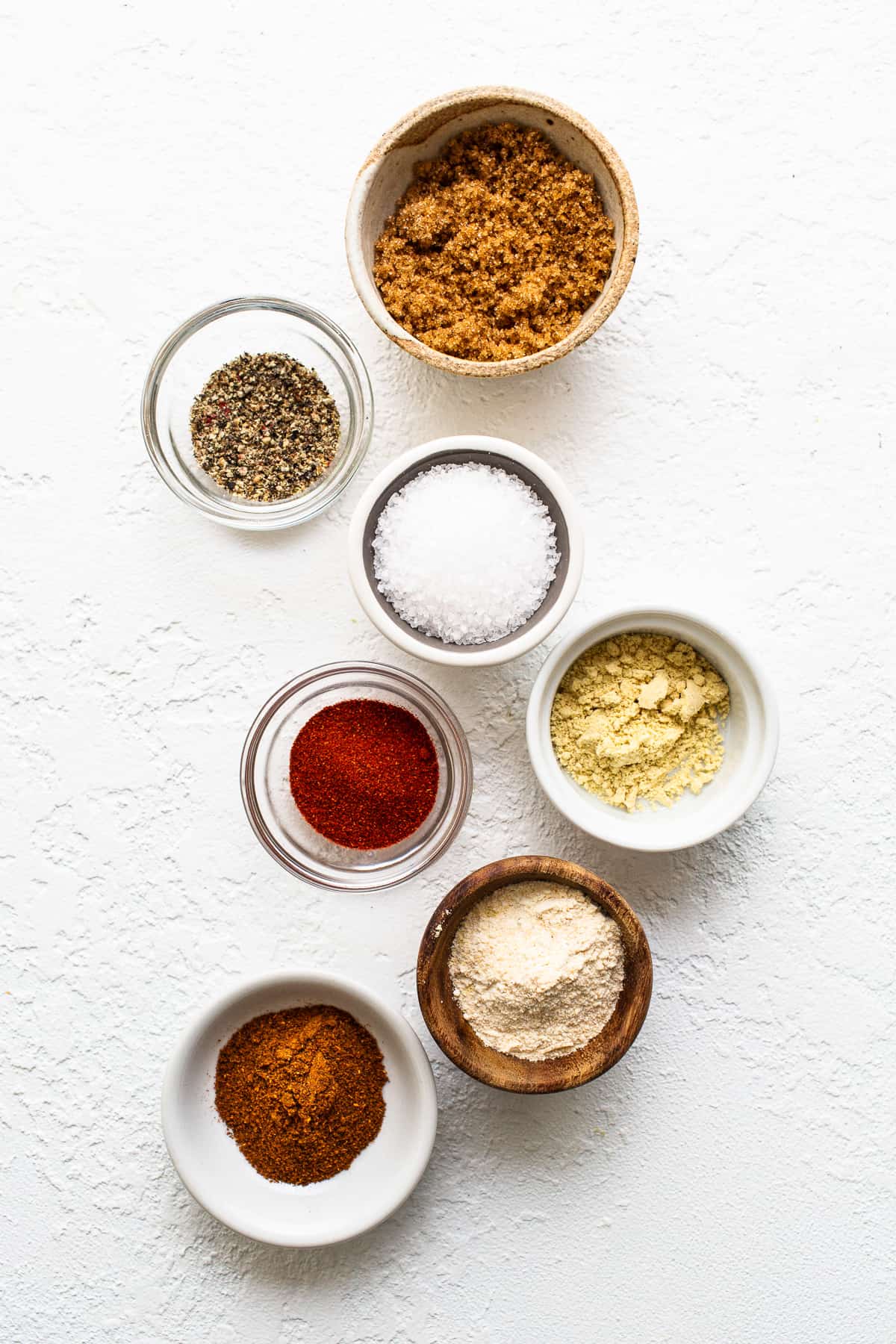 What is pork shoulder?
A pork shoulder comes from the shoulder of a pig. It typically has more fat than a pork loin, which makes it great for slow roasting or smoking.
A pork shoulder and a pork butt can both be used. Both cuts of meat come from the shoulder. The pork butt has more fat and the pork shoulder has more muscole.
In this pork shoulder recipe, we're using a 6-7lb. bone-in pork shoulder.
Other names for pork shoulder:
pork butt
picnic shoulder
picnic roast
Boston butt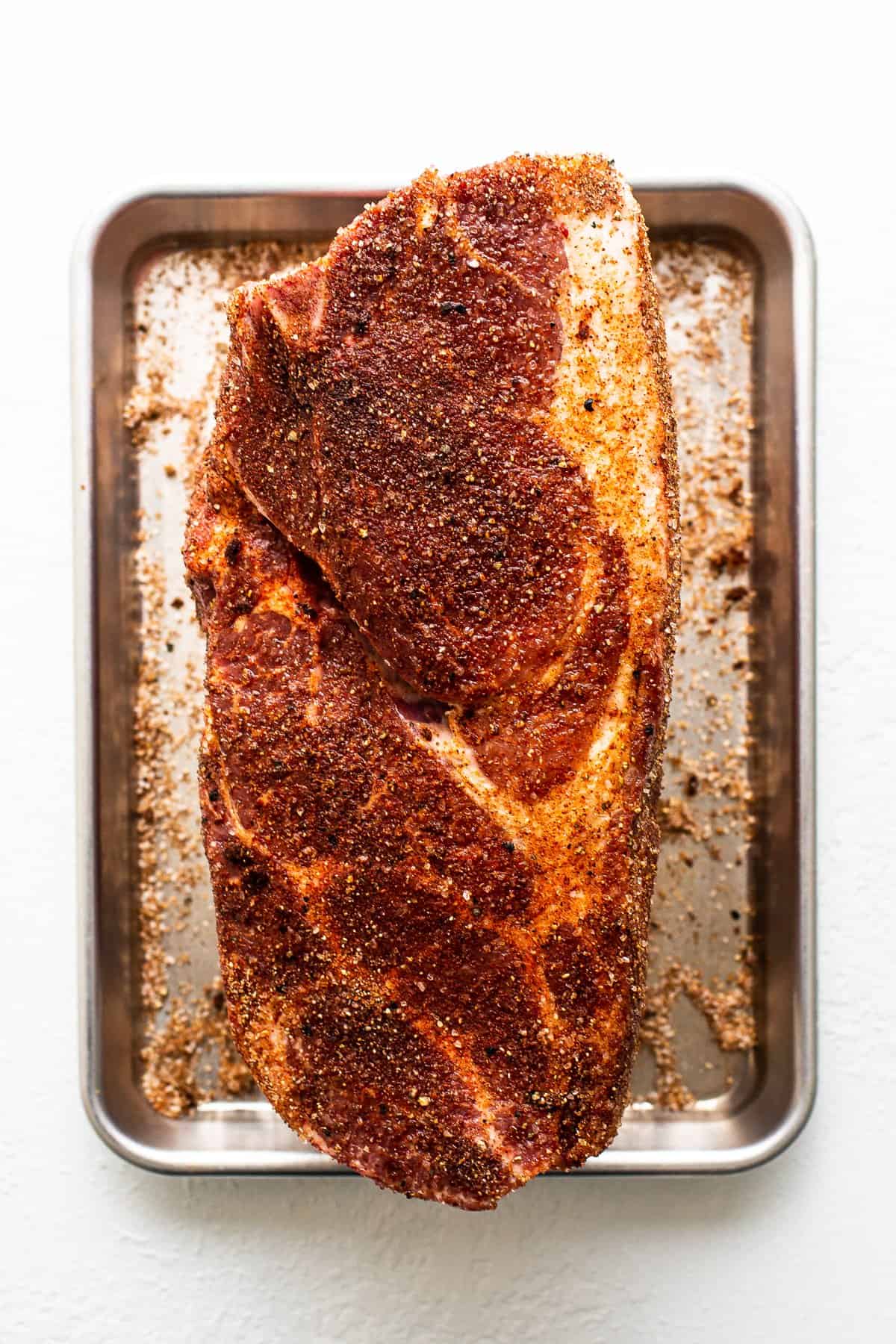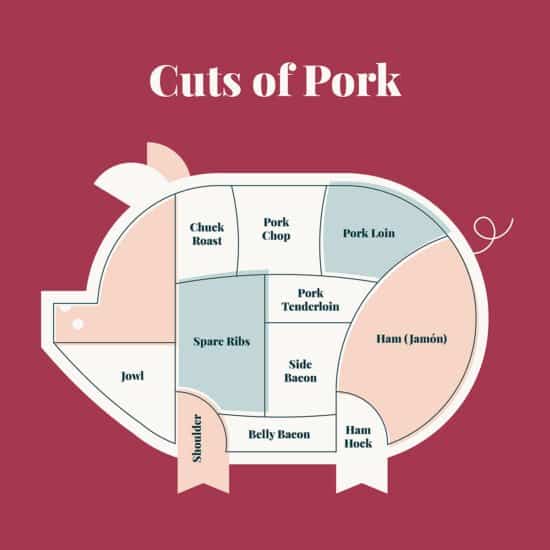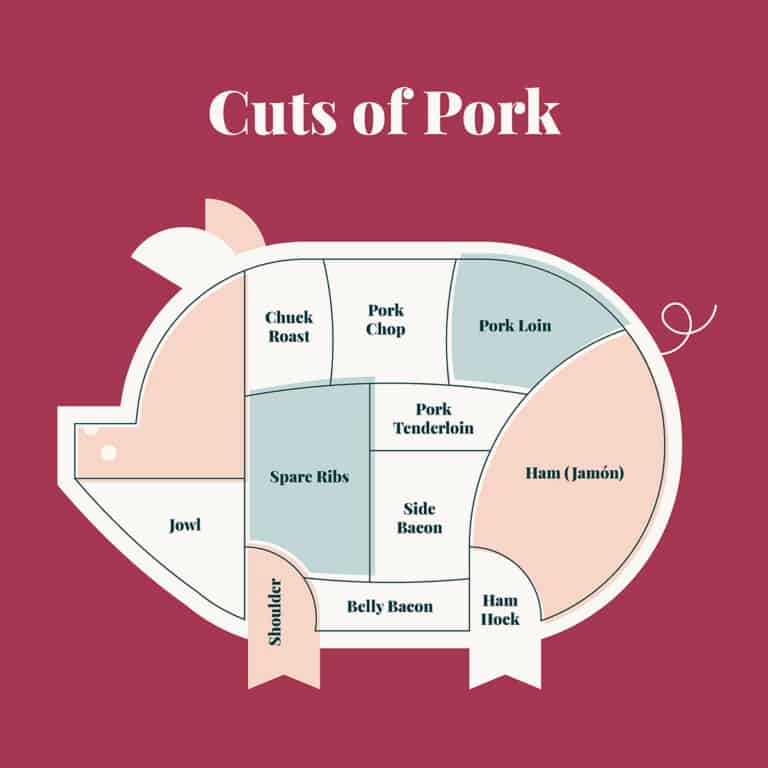 Smoked Pork Shoulder FAQ
How long does it take to smoke a pork shoulder?
This pork shoulder smokes between 7-8 hours on the smoker. Time may vary by the size of pork shoulder you use, what type of smoker you use, etc. Just be sure to keep an eye on the internal temperature of the pork shoulder.
What temp is smoked pork shoulder done?
The internal temp of pork shoulder is 195-205ºF. Remove the pork from the smoker and let it rest for 20-30 minutes before shredding.
How to smoke pork shoulder on a charcoal grill
If you don't have a smoker you can still use a charcoal grill to smoke this pork shoulder. Place soaked wood chips in a foil pan and cover it with aluminum foil. Poke holes in the top of the tin foil and place the wood chips under the grates of your grill in the back corner.
Turn the grill on hi and close the grill. When smoke appears, add the pork shoulder to the grill. Continue to add soaked wood chips to the aluminum pan so it continues to smoke. Adjust the heat of your grill based on the temperature gauge.
Can you smoke over pork shoulder?
Yes, you can smoke over a pork shoulder. Be sure to monitor the internal temperature of the pork shoulder so the pork does not dry out.
Can you freeze smoked pork shoulder?
Yes, you can freeze smoked pork shoulder. Shred the smoked pork shoulder and let it cool. Place the shredded pork shoulder in a freezer safe bag and freeze for up to 3 months.
How do I use smoked pork shoulder?
After you have shredded or slices the pork shoulder you can use the pork in a smoked pulled pork sandwich, a wrap, in tacos, on nachos, or whatever you can think of.
What can I add to this smoked pork shoulder recipe?
You can add maple syrup to the apple cider spritz for a maple flavor. You can slather your smoked bork in bbq sauce after shredding it.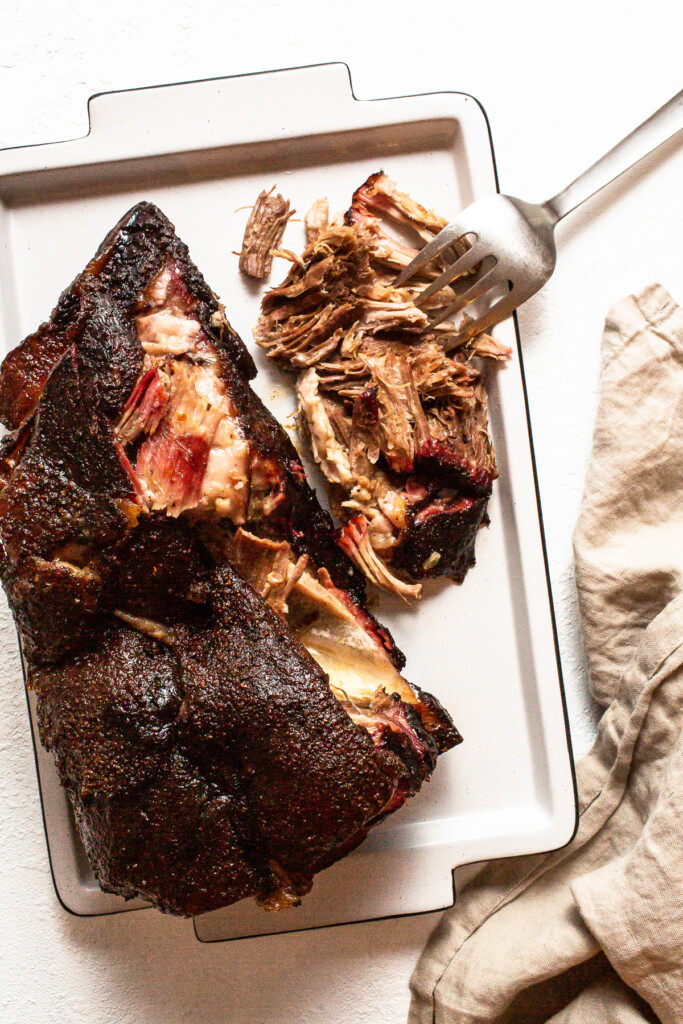 How to Make Smoked Pork Shoulder
Preheat and prepare the smoker. Prepare your pellet smoker, wood chip smoker, or charcoal grills. Clean the grates and preheat the smoker to 250ºF.
Dry rub the pork shoulder. Mix together all the dry rub ingredients and massage the dry rub all over the pork shoulder. Let the pork sit in the dry rub for 30 minutes or more. for extra flavor and tenderness.
Smoke the pork. Place the pork on the smoker and smoke the pork for 7-8 hours. Prepare the apple cider spritz and spray the pork shoulder every hour or two to keep the pork tender and moist.
Let the pork rest. Once the pork has reached an internal temperature of 190-205ºF remove the pork from the smoker and let it rest for 30 minutes.
Enjoy. Shred the pork and enjoy it at a BBQ or all week.
Latest Salmon Recipes
More
Top Tips
Try not to open the smoker too many times. If you open the smoker too many times throughout the smoking process, it will let out heat and will take longer to come to temperature.
Have extra pellets on hand. Speaking from experience, be sure you check your pellet levels and wood chip levels multiple times throughout the cook time. If the pellets run out or wood chips are low, the temperature will be lower.
Try it!
Thermoworks Thermapen
We swear by using a meat thermometer when cooking any cut of meat. The Thermapen is our go-to meat thermometer that works every time.
Buy Now
Storage
Let the pork cool completely before placing it in an airtight container and place it in the refrigerator for up to 5-7 days.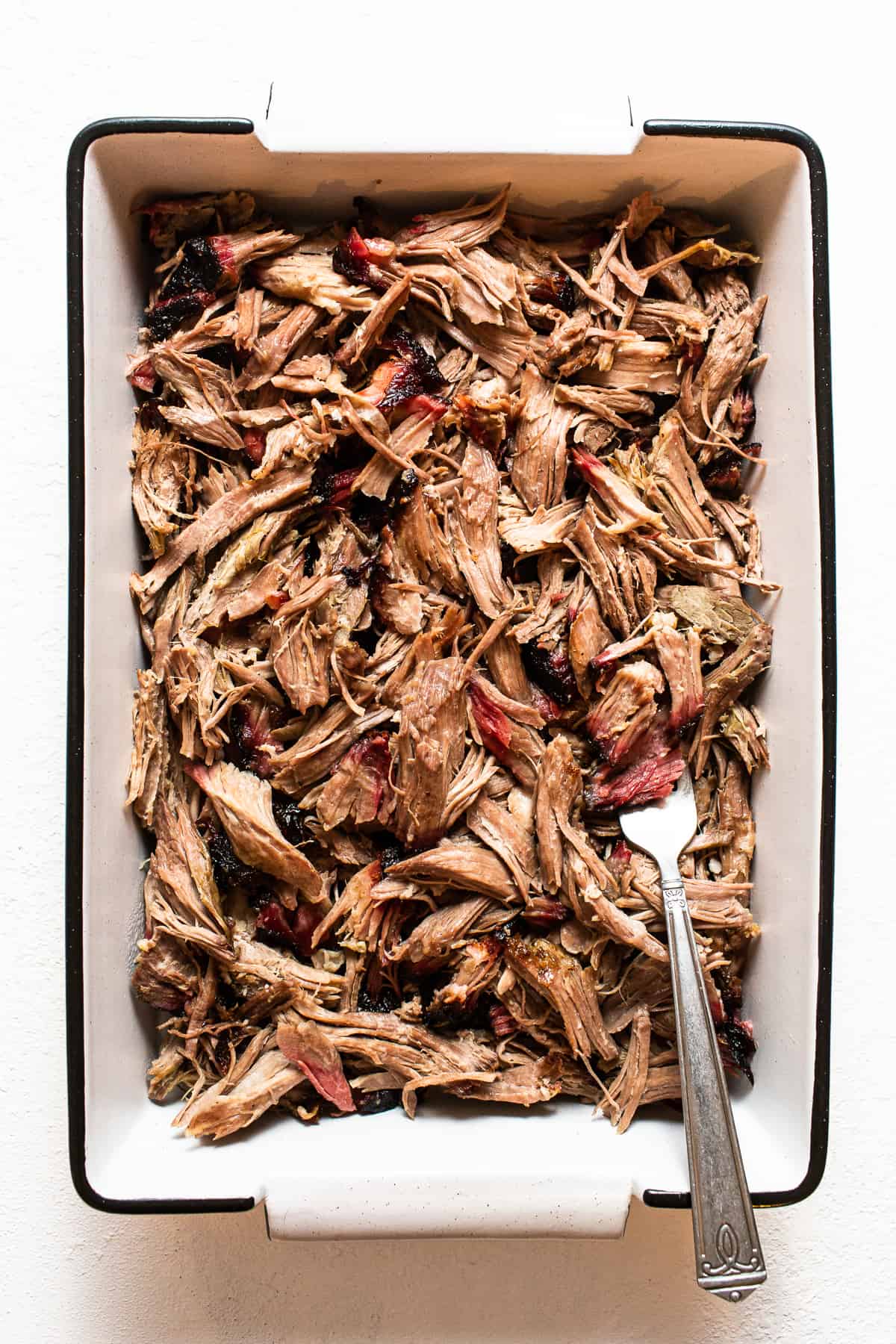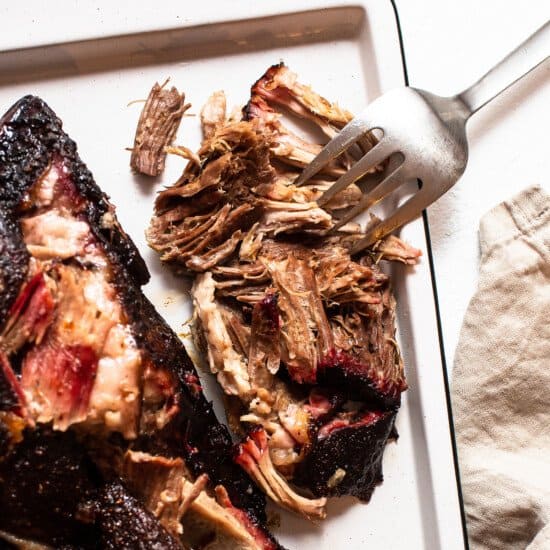 Smoked Pork Shoulder
This smoked pork shoulder recipe is made with a 7-lb. pork shoulder, a delicious dry rub, and smoked for about 7 hours. It leaves you with tender and juicy smoked delicious pork.
Prep:2 hours
Cook:8 hours
Total:10 hours
Fat 19
Carbs 6
Protein 52
Ingredients
1.5

tablespoons

coarse salt

1.5

tablespoons

dark brown sugar

1

tablespoon

garlic powder

1.5

teaspoons

paprika

1.5

teaspoons

chili powder

1

teaspoon

ground mustard powder

1

teaspoon

ground black pepper

7-8

lb.

bone-in pork shoulder

also known as pork butt, we used a 7.5-lb. shoulder
Apple Juice Spritz
¼

cup

apple juice

¼

cup

bourbon

2

tablespoons

maple syrup

2

teaspoons

apple cider vinegar
Other
We used the Signature Traeger pellets

feel free to use whatever pellets you'd like ..
Instructions
Add the salt, brown sugar, garlic powder, paprika, chili powder, mustard powder, and black pepper in a bowl. Mix until combined.

Sprinkle half of the dry rub over the pork shoulder and massage the rub into the meat. Flip the pork over and sprinkle the rest of the dry rub on top of the rest of the pork and massage the dry rub into the meat. Be sure the whole pork shoulder is coated.

Wrap the pork shoulder in plastic wrap and place it in the refrigerator for at least 2 hours or overnight for best results.

Preheat the smoker to 250ºF and add your smoking pellets or smoking chips to the smoker. We used the Signature Traeger Blend pellets. prepare the apple juice spritz. Pour the apple juice, bourbon maple syrup, and apple cider vinegar into a small spray bottle and shake it until combined. Set aside.

When the smoker is preheated, place the pork shoulder on the smoker and cook for 7-8 hours. Spritz the whole pork shoulder with the apple juice spritz every hour or hour and a half to keep it from drying out.

When the pork shoulder has been on the smoker for 6 hours, lower the temperature to 200ºF.

When the internal temperature of the pork reaches 195ºF-205ºF the pork is done.

Remove the pork from the smoker and let the meat rest for 20-30 minutes before slicing or shredding.

Serve on it's own, on tacos, on buns, or in a burrito bowl.
Tips & Notes
Timing for how long to cook the pork shoulder varies by smoker and by how large your pork shoulder is.
Feel free to add your favorite spices to the dry rub for this pork shoulder.
You can use whatever type of pellets or wood chips that you'd like for this recipe.
You will need around 20-lb. pellets for this recipe.
Nutrition facts
Calories: 426kcal Carbohydrates: 6g Protein: 52g Fat: 19g Fiber: 1g Sugar: 5g