The delightful smell of this healthier version of Panera's Cinnamon Crunch Latte can never bore me! It just makes you want to snuggle into a blanket with a good book or movie.
This recipe features one of my healthier versions of Starbucks and Panera fall-flavored drinks. It's so simple to make, only 4 ingredients, and it takes only 5 minutes to prepare. It is also super easy to take it to the office with you in a reusable coffee cup! That way we can also reduce the use of paper cups, which are not environmentally friendly!
This homemade fall latte features date syrup, cinnamon, vanilla extract, and you can top it with some cinnamon crunch cereal which you can buy at your local grocery store or make your own, a dollop of whipped cream and a drizzle of the date syrup.
Please let me know in the comments below which coffee flavor you liked the most, Apple Crisp Macchiato, Pumpkin Spice Latte, or the Cinnamon Crunch Latte.
Other flavor recipes are linked below:
Social Buzz
Ingredient Selection Tips
Date Syrup
Date syrup is a caramel-colored, thick sweetener. You can find it at better-supplied health food stores. If you have time, you can make it at home, too. Here you can find an easy recipe to make it.
Vanilla
Try to find real vanilla extract to buy. Pure vanilla extract is made from whole vanilla beans extracted using 35% + alcohol – and nothing more! You can always check the ingredients on the package.
Cinnamon
The best cinnamon you can buy is Ceylon cinnamon with no additives. Look for tan brown spice rather than reddish dark brown. The smell should be delicate and sweet when you open the bag.
Noteworthy Health Benefits
Dates
Dates are the fruits of the palm tree, and they are grown mostly in the Middle East. They are very sweet, but also nutritious. They are not sugar bombs or empty calories. They are full of vitamins and minerals, such as iron, magnesium, calcium, zinc, potassium, copper, B vitamins, and manganese.
Dates are rich in fiber and antioxidants, which are very beneficial for our health.
Here are some of the health benefits of eating dates:
They can prevent constipation
They can help prevent blood sugar
They may help prevent the development of certain chronic illnesses, such as heart disease, cancer, Alzheimer's and diabetes.
May help improve brain function
They are an excellent substitute for white sugar.
Dates may help ease natural labor
Dates are high in sugar, one date contains around 6gr, and they are also high in calories, so don't overeat!
Notes:
When made into a syrup, the fiber and nutrients are stripped away, but this brand still retains some fiber, which helps reduce a blood sugar spike.
Another alternative with even less sugar is Monk fruit sweetener, but it's more processed and I can't guarantee it will reduce like this syrup. If you try it, let us know in the comments!
Date sugar has a caramel like taste and is half the sugar of one Starbucks syrup pump!
Cinnamon
Cinnamon is the second most popular spice, after black pepper. There are a number of health benefits, including:
Improving fungal infections
May reduce blood sugar levels
It may prevent Alzheimer's disease
Lowering the effect of high fat meals
Reducing the risk of cardiovascular diseases
Preventing cancer
It has antiviral and antibacterial properties
May improve gut health
Relieves digestive discomfort
Reduces blood pressure
Diet Preference Tweaks
Vegan / Fully Plant-Based
For a fully vegan version, use a non-dairy whipped cream for the topping.
Paleo
As for the Paleo / Keto diet, try switching the whipped cream out for a coconut cream topping (You can do this by putting a can of coconut cream in the back of the refrigerator overnight, which solidifies the cream and then whipping it up the next day).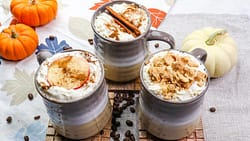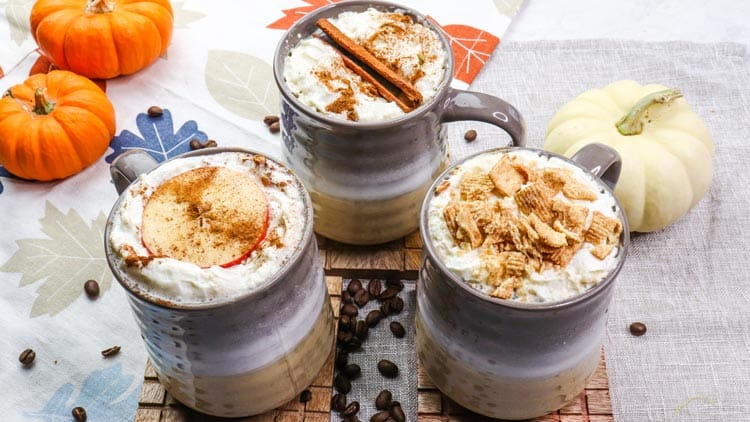 Cinnamon Crunch Latte Syrup
Yum
Caitlin Havener
The delightful smell of this healthier version of Panera's Cinnamon Crunch Latte can never bore me! It just makes you want to snuggle into a blanket with a good book or movie.
Prevent your screen from going dark
Put the date syrup into the small saucepan.

Add cinnamon.

Add water.

Add vanilla extract.

Bring it to a simmer and stir occasionally.

It is done after 25-30min when it becomes a syrup.

Calories: 68kcalCarbohydrates: 18gSodium: 12mgPotassium: 6mgFiber: 1gSugar: 13g
Related